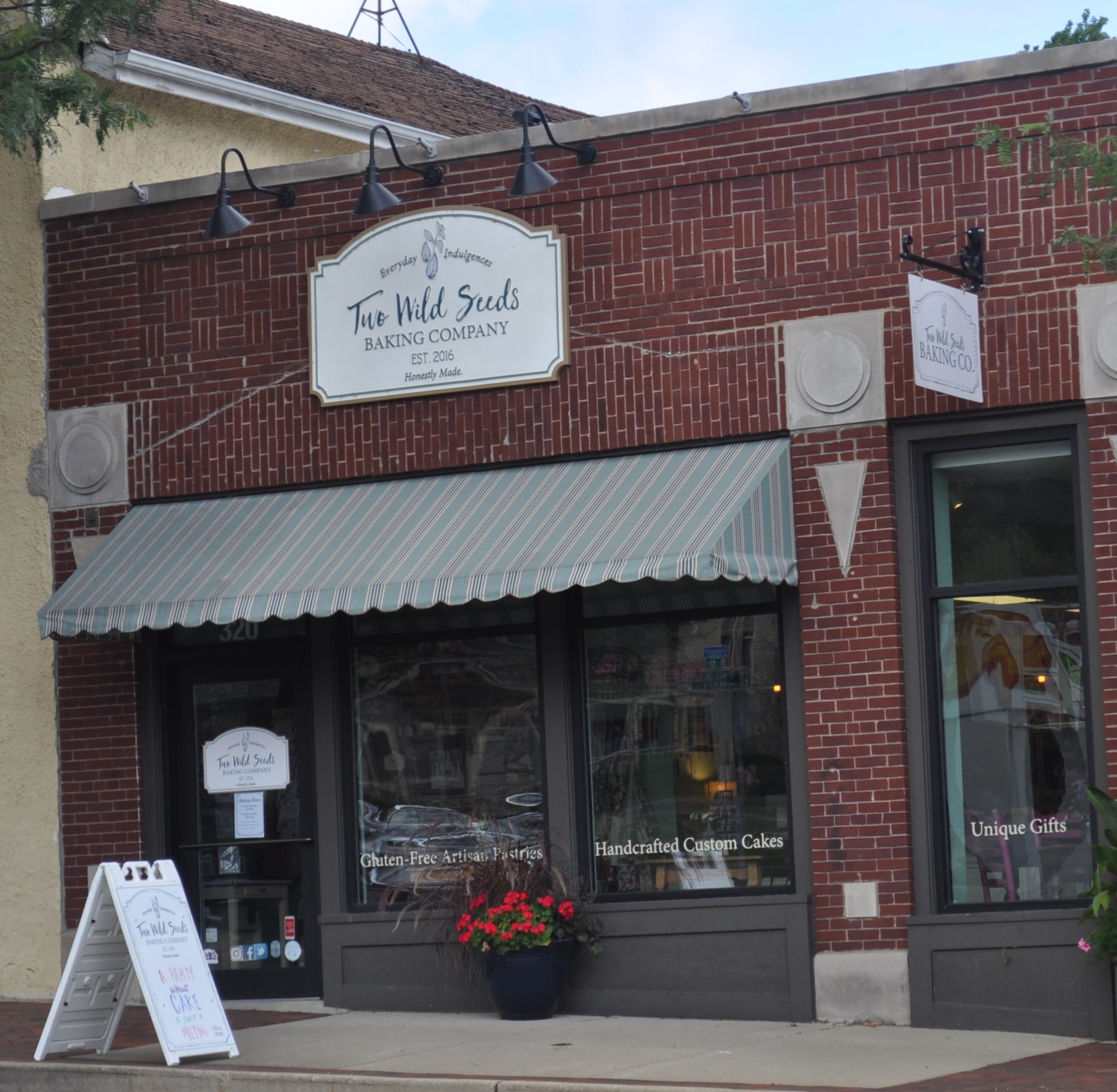 Our Story …

Sisters Leslie Sabella (the artist) and Katie Kritzberg (the baker), a.k.a. the Two Wild Seeds, were born and raised in the Midwest where they learned to appreciate a very self-sustaining way of life from their mom, Susan Kritzberg. Both creative souls, the sisters always dreamt of creating a space that celebrated their love of nature, local food, art, and the bohemian lifestyle.

When Leslie moved to California in 2014, their desire for a way to stay connected across the miles became even more clear, and that's when the concept for Two Wild Seeds was planted. However, it wasn't until Katie and their mom looked to open their first brick-and-mortar bakery in Illinois that the dream finally came to fruition.

Like seeds, from which all things root and grow, Leslie and Katie are the seeds of those who came before them. Their deep connection to where they grew up has allowed them to infuse a certain passion and authenticity into everything they do, from cooking a meal to creating a piece of artwork. This keeps them inspired each day, all with the goal of sharing it here on TWS.

Today, even though life has taken the sisters in different directions, and they've scattered like seeds to opposite sides of the country, their roots will always be grounded where it all started — at home.
Susan Kritzberg: Proud mother and Co-owner/Pastry Chef of Two Wild Seeds Baking Company. Susan was born and raised in the small, (once) rural town of Yorkville, Illinois. She grew up on 4 acres of property that her father purchased in the 50s, which also happens to be where Susan raised her three children and still resides today.
Some of her fondest memories of her country childhood include horseback riding, swimming in their ponds, exploring the woods, learning to garden from her Dad, and drawing, which ultimately led her to study art at Northern Illinois University. With a B.F.A. in drawing and painting, Susan pursued her love of art by teaching privately for more than 25 years, becoming a published colored pencil artist and even opening her own art gallery in downtown Yorkville. In addition to her artistic nature, she has always been known for her gourmet cooking and baking, which to no surprise, is of exquisite quality and taste due to her eye for detail and refined palate.

or anyone who has ever had the pleasure of meeting Susan, you'll instantly feel as though you've been friends for years. Her genuine love for all things nature combined with her passion for creating beautiful food and desserts is unparalleled and every bit authentic.

When Susan isn't helping run Two Wild Seeds Baking Company with her daughter, Katie, she enjoys raising her flock of chickens, caring for her two dogs (Midgy & Beau), tending to her ever-expanding garden, and most of all — spending time with her family and new baby grandson, Emerson.
Leslie Sabella: The first "Wild Seed," Contributing Editor to Two Wild Seeds & Owner of True Spirit Art.

After graduating from Northern Illinois University with Honors in Art History, Leslie decided to switch gears and, with the support of her parents, realized a dream of opening her own eclectic shop filled with products to inspire the soul. For five years, Blue Orchid Studio was an outlet for her creative and entrepreneurial passion, and provided her the opportunity of learning about building the foundation of a business. Leslie carefully hand-picked each and every item for the shop, scrutinizing the design, packaging, message, and quality. Although it was difficult to close her shop's doors in 2011, new pursuits were on the horizon for both she and her husband, Jonathan Sabella, a CG artist. After living in Vancouver and Los Angeles, they currently call San Francisco their home-away-from-home.

Along the way, she decided (with much encouragement from Jonathan), it was time to do something with her love of drawing. In 2012, she opened her Etsy shop under the name Leslie Sabella and hasn't looked back since. Today her brand True Spirit Art offers fine art prints, greeting cards, recipe cards, and newly released adult coloring book "Boho Soul" worldwide. "Knowing my art is lovingly appreciated by people from all corners of the world is humbling."

With the 2016 launch of Two Wild Seeds online, and the brick and mortar bakery location in Illinois, Leslie is excited to showcase her brand True Spirit Art for new buyers, as well as helping hand select retail products and design TWS's marketing materials.

When she's not immersed in her world of art, she loves spending time with her husband and dog, Bella, traveling to new and old places, cooking vegetarian dishes, knitting, practicing yoga and seeking out the comfort of natural open spaces in this busy world.
Katie Kritzberg: The second "Wild Seed," Contributing Editor to Two Wild Seeds & Co-owner/Pastry Chef of Two Wild Seeds Baking Company.

Katie is a bonafide Midwestern girl. Born and raised in the rural suburbs of Chicago, she grew up on four acres of property that can only be described as a magical oasis. From running around barefoot eating wild raspberries and foraging through the woods for morel mushrooms, to cracking walnuts with her grandpa and picking green beans from her mom's garden, Katie has always felt "at home" in the outdoors — and with food, of course.

Though she'd always dreamt of doing something culinary-related, Katie followed her lifelong love for writing and graduated with honors in Journalism from the University of Illinois at Urbana-Champaign. She then moved to Chicago to pursue a career in food writing, and it was only a short while after dining in some of the city's best restaurants that she decided to follow her passion for cooking by attending the Le Cordon Bleu College of Culinary Arts.

After a few years of working for some of the top farm-to-table restaurants, bakeries, and cafes, Katie grew tired of the city's fast-paced lifestyle and returned home in search of something more personal … something that would feed her entrepreneurial spirit and desire for a simpler way of life. That's when she and her mom had the opportunity to launch their gluten-free baking company, which is now one of the most sought-after GF bakeries in the Chicagoland!

Katie is thrilled to return to her roots by combining her passion for both food and writing here on Two Wild Seeds with her older sister, Leslie, and mom, Susan.

When she's not in the kitchen or nose-deep in cookbooks, Katie strives to lead a self-sustaining, natural lifestyle and enjoys traveling, exploring the outdoors and spending time with her dog, Lola.
For more information and the daily menu visit http://www.twowildseeds.com/